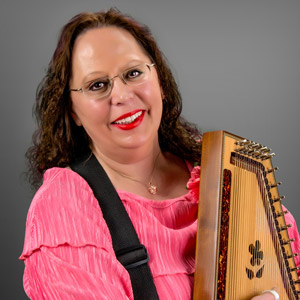 BACK BY POPULAR DEMAND!
TINA LOUISE BARR is a leader in her field and she performs and gives autoharp workshops at music festivals across the U.S. Tina is well known for her remarkable clarity on the autoharp, and she is equally adept in mastering crystal-clear melody on sweet delicate musical pieces as she is with lively selections. She blazes new horizons with her limitless versatility of musical styles on chromatic or diatonic autoharp.
Pete d'Aigle of Autoharp Quarterly states, "Tina Louise Barr is in a class by herself in the autoharp world and beyond. Her electrifying style ignites an audience and pumps the adrenaline level of all in the room, offering an always young and energetic feel for what our instrument is capable of. In addition to performing, Tina Louise Barr offers a unique look at teaching autoharp to various levels of students. Offering a distinctive perspective on how to approach playing the autoharp, students of her workshops and classes come away with a special freshness in advancing their level of play."
Her methods in teaching the autoharp have been described as "logical, sensible, and achievable". Tina Louise Barr returns as an Early Bird Academy instructor at the California Autoharp Gathering this year, and she welcomes you into developing as more than just a better autoharp player, but as a better musician, also.
Tina Louise Barr was honored with the California Autoharp Gathering's Lifetime Achievement Award "to commemorate her extraordinary skills in performing, teaching, and inspiring autoharp enthusiasts from all over the world".
Tina welcomes you to join CAG-2022 for a musical experience in study, discussion, and jamming.
Get ready for some fun, Tina's musical performance will have you dancing in the aisles!