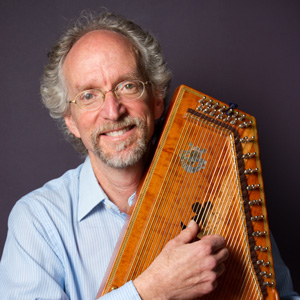 Les Gustafson-Zook, from Goshen, Indiana is a popular autoharp instructor, performer, and multi-instrumentalist at festivals and music schools across the U. S.  He's an engaging entertainer, having performed in elementary schools for over 20 years introducing traditional instruments and music to multi-generation audiences with a presentation of Songs of the Pioneers. More recently, Les has been performing with a variety of homemade novelty instruments, bringing smiles and intrigue to all ages. Les is the 2001 and 2018 International Autoharp Champion at Winfield, KS, as well as the 1989 National Autoharp Champion. In 2014 he was inducted into the Autoharp Hall of Fame.
He is known for his patient, clear, and encouraging teaching style, his fast, clean picking of fiddle tunes, his energetic performance, and for his creative arrangements of hymns, waltzes, and Christmas carols.
Les has recorded six CDs and has three books of arrangements for autoharp. He's also a core member of a contradance band called Band 'o Goshen and often performs with his wife, Gwen. When not doing music, Les works for Mennonite Central Committee (mcc.org), an international relief, development, and peacemaking organization, plays disc golf, and volunteers with Chain Reaction Bicycle Shop, a non-profit Community Bicycle Organization (crbp.org).