Harry and Cindy Liedstrand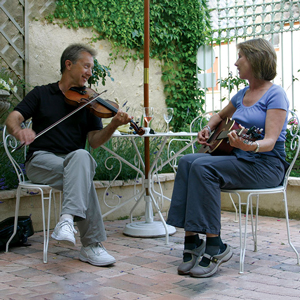 About Harry
Harry Liedstrand is an accomplished fiddler and acoustic musician whose performances of American and Celtic traditional music are inspired and energetic. Able to swing gracefully between Appalachian, New England, Irish, and California styles with technical skill, Harry infuses each concert with radiant qualities that are positive and uplifting.
Harry has been playing music since childhood. His father taught him his first melodies on the violin when he was four years old. He studied violin with some of the finest violinists in the SF Bay Area and spent two years in the Conservatory of Music at the University of the Pacific.
Age 4, entertaining the dog
In 1966 Harry became fascinated with traditional country music while living in the central San Joaquin Valley. Inspired by valley musicians like Kenny Hall, Otis Pierce, and Ron Huey, Harry began collecting tunes and immersing himself in Fresno's rich musical heritage. In 1969 Harry joined the Sweets Mill String Band and began performing music at universities and folk festivals up and down the west coast.
In the summer of 1971 the Portable Folk Festival was formed. The Sweets Mill String Band was part of a contingent of sixteen California folk musicians, family, and friends who traveled east in a 1947 Chevrolet school bus. The PFF brought California traditional music to most of the major folk festivals, universities, folk societies, and coffee houses around the country. In the spring of 1972 Bay Records was launched when Mike Cogan issued the now classic recordings of Kenny Hall and the Sweets Mill String Band.
Hairy Harry at the National Folk Festival (Kerry Blech)
Harry's fiddling style has emerged from a broad range of different influences. He learned many tunes and songs from Kenny Hall. In 1973 he visited the great American fiddlers Tommy Jarrell, Burl Hammons, and Louis Beaudoin. He learned Irish tunes from accordionist Kevin Keegan. Collecting and performing traditional music eventually led to the completion of a Masters Degree in Folklore/Ethnomusicology at CSU-Fresno in 1983.
Currently living in Lafayette, CA, Harry can be heard playing music in various combinations. In 2003 Harry formed the Mt. Diablo String Band with CBA founder and banjo player Carl Pagter. A CD of their music was released in 2008. The Liedstrand Family also released a CD of music in 2009. It includes Harry on fiddle, Cindy on guitar, and their children Farrin (fiddle) and Terrell (mandolin). It features three generations fiddling together when Alvin, age 94, joins in.
Besides occasional concert performances Harry uses music on a daily basis as a teacher. Students in his classes enjoy beginning each day with a happy melody. Music creates an atmosphere of harmony and delight for the rest of the day. With the understanding that music helps improve learning in all academic and social areas he often finds himself and his students whistling while they work and turning work into play.
"The only thing more fun than playing fiddle is laughing."
Education
From 1959 to 1964 Harry studied violin with Nathan Rubin, concertmaster of the Oakland Symphony and professor of violin at Mills College, and with William Pynchon of the San Francisco Symphony. From 1962-1964 he was concertmaster of his high school orchestra, and a member of the Northern California Honor Orchestra. In 1964 Harry received a violin scholarship to the Music Conservatory at University of the Pacific where he studied with Ralph Matesky, professor of the violin, played three seasons with the Stockton Symphony, and toured Scandinavia with the Idyllwild Youth Symphony Orchestra.
Folk Festival Performances:
CBA Father's Day Festival, CA 2008, 2011, 2015, 2018
Torsåker Bluegrass Festival, Sweden 2017
Rootsinpyhtää Bluegrass Festival, Finland 2017
Festival of American Fiddle Tunes, WA 1979, 2006, 2014
Thomas Point Beach Bluegrass Festival, ME 2011
Berkeley Old Time Music Convention, CA 2010
Golden Old Time Festival, CA 2005
Northwest Folklife Festival, WA 2005
Fresno Folk Festival, CA 1972, 2003
Wild Iris Folk Festival, CA 2001
Mendocino Folk Festival, CA 1978
West Coast Regional Folk Festival, CA 1975
National Folk Festival, VA 1973
Sweets Mill Folk Festival, CA 1972
Fox Hollow Folk Festival, NY 1971, 1973
Miraposa Folk Festival, Toronto, Canada 1971
Smithsonian Folklife Festival, Washington D.C. 1971
San Diego Folk Festival, CA 1970, 1971, 1972, 1973
About Cindy
Cindy performs as guitarist and vocalist in the Dos Valley Trio, the Mount Diablo String Band, and the Liedstrand Family Band. She grew up in Fresno, California and was involved in school choruses, church choirs as well as being a ballet, modern, ball room and folk dancer. Cindy became involved in the traditional music scene in the late 1970s after studying textile design at UC Berkeley and in Sweden, and microbiology and biochemistry at Fresno State. She met Kenny Hall in 1977 and he told her to find Harry Liedstrand.
While Cindy was raising a family with Harry, and working as a laboratory scientist, she began playing backup rhythm guitar for Harry's fiddle tunes, and she also enjoyed singing harmonies with both family and friends. An abundance of rich and unexpected opportunities has given Cindy the unique experience of exposure to and participation in the vital folk music tradition of fiddling.