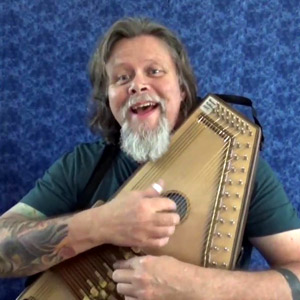 Hal Weeks has been a professional musician since 1989.
In school, he majored in Music Theory and Composition at the University of Colorado, Boulder. Several of his musical compositions and theater scores were performed.
After changing to folk music and autoharp, He worked for a decade as a professional children's entertainer, both solo, and as part of The Imagination Makers Theater Company, presenting literally hundreds of assembly programs in the Colorado school systems. He also performed at Libraries, Fairs, YMCA's, Rec Centers and Summer Camps and was a favorite at the Denver Children's Museum.
Hal also performed in numerous Senior Centers, Retirement and Nursing Homes.
He has been teaching Autoharp for 20 years.
In 1996 he won the title of National Autoharp Champion at Avoca, IA
In 2018 he was awarded ​2nd place in the International Autoharp Championship at the Walnut Valley Festival in Winfield, KS.
Hal has taught Autoharp numerous workshops at the California Autoharp Gathering, Northwest Autoharp Gathering, D'Aigle Autoharps and Folk Instruments, The National Old Time Music Festival in Avoca IA, Walnut Valley Festival in Winfield KS, and Mountain Laurel Autoharp Gathering.
He also played Native American Flute weekly at the UCHealth University of Colorado Hospital.