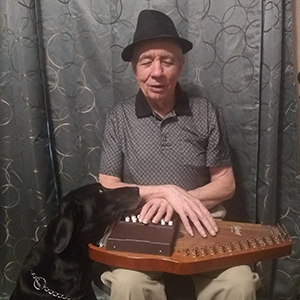 George McCoy was born and raised in Columbus, Ohio. His grandfather gave him a Honer G/C double-sided harmonica when he was seven years old. A succession of unusual wind instruments followed including an ocarina, flute-a-phone, recorder, slide whistle and a trumpet.
He fell in love with the folk music of the early and mid 60's and it has shaped his music to this day. The folk music craze was long past when he got his hands on a guitar.
In 1976, he graduated from Wright state university in Dayton Ohio. There he met his future wife, Linda, and was exposed to an Oscar Schmitd 15-chord type B autoharp by one of his roommates.
George said, "That autoharp and I really clicked and I spent every spare minute teaching myself to play it. All my roommate could tell me was that I had to cross my hands. I put that autoharp on my lap, crossed my hands and away I went. I didn't find out that most folks play with the harp upright on their shoulder until three years ago."
George bought his first autoharp in 1975. It was an Oscar Schmidt 21-chord type B. He still plays it to this day and it's still set up just like it came out of the box.
He played in coffee houses and small taverns, and financed his honeymoon with some of the proceeds. He played those gigs for a number of years, but cut back on them after Lin bore their two children. He kept playing for small informal groups and family and friends, however.
In late 2017, George heard a Facebook live stream of guitar music done by one of Lin's facebook friends. He decided to get back into performing that way.
He did his first live stream on his Autoharp Down Home Facebook page on March 24th, 2019 and has been going strong ever since. He plans to start playing live again as the pandemic subsides and things open up again.