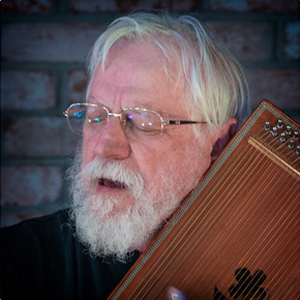 Born August 18, 1940 in Yorktown, Virginia, Bryan Bowers was raised in New Bohemia near Petersburg of the Civil War's Battle Of The Crater fame. As a child, Bowers would tag along with the field workers and gandy dancers and learned to sing old call-and-answer songs. Bowers recalls, "The music I heard while working in the fields was mesmerizing. And, I'd see the gandy dancers coming down the tracks, setting the rails and getting their ties straight. You've heard that song `Whup Boys, Can't you line 'em?, Chack a lack.' Whup Boys, can't you line 'em? was the call the leader would sing. Chack a lack was the bounce-back of the hammer after falling on the pin. I just thought that music was something that everyone did. It was years later that I realized what I'd been raised around." Bowers enrolled at Randolph Macon College in Ashland, Virginia, but found that college was not satisfying an emptiness he felt. Three hours short of earning a degree in Spanish, Bowers dropped out. About the same time (the late '60s), Bowers discovered music when he took up the guitar. "The roots of the music had gone real deep in me. Music was real fulfilling, unlike anything I had ever done before."
It wasn't long before Bowers encountered the autoharp. "I ran into a guy that played several instruments and could get the harp in good tune. He played without any fingerpicks, just with his fingernails. He had a real sprightly style on it. It was the first time I'd heard someone play it in good tune and play it well. It opened my eyes and my ears. I went out and got one the next day."
Bryan relocated to Seattle, WA in 1971 and played for coins as a street singer and in bars for the right to pass the hat. Once he had polished his technique, he headed east in a 1966 Chevy panel truck he affectionately called "Old Yeller." "The Dillards heard me in DC when I went to the Cellar Door," recalls Bowers. "I introduced myself and played the `Battle Hymn Of The Republic' to show them how the harp worked. Sam Bush, Curtis Burch and Courtney Johnson of the New Grass Revival were there. I didn't realize how presumptuous I was being. The Dillards took me to a bluegrass festival at Berryville, Virginia and when they got an encore, they put me out there for their second encore, saying `Here's a guy you ought to hear.' The bluegrass community has been real supportive."
Bower's creativity and talent have won him induction into Frets Magazine's First Gallery of the Greats after five years of winning the stringed instrument, open category of the magazine's readers' poll. This distinction put Bowers along side other luminaries, such as Chet Atkins, David Grisman, Stephan Grappelli, Itzhak Perlman, Tony Rice, Rob Wasserman and Mark O'Connor, recognized for their personal accomplishments. In 1993, Bryan was inducted into the Autoharp Hall of Fame to stand only with Maybelle Carter, Kilby Snow, and Sara Carter.
From his rather unglamorous beginning as a street singer, Bryan Bowers has become a major artist on the traditional music circuit. He has redefined the autoharp and is also well known as a singer-songwriter. Bryan has a dynamic outgoing personality and an uncanny ability to enchant a crowd in practically any situation. His towering six foot four inch frame can be wild and zany on stage while playing a song like `Dixie' and five minutes later he can have the same audience singing `Will The Circle Be Unbroken' in quiet reverence and delight.
For nearly three decades, Bryan Bowers has been to the autoharp what Earl Scruggs was to the five-string banjo. He presents instrumental virtuosity combined with warmth, eloquence, expression and professionalism.
The history of the autoharp is traced to the late 19th century. Over the past 130 years, there have been hundreds and thousands of musicians and artists who have strummed, pinched, plucked, and performed songs and tunes on the autoharp. In this time span, there have been just two autoharpists who could be given the title and honor of "grandmaster", signifying the highest possible achievement in autoharp. Both grandmasters hail from the state of Virginia. The first grandmaster is bestowed upon Kilby Snow, the musical genius who was the first autoharpist to hold the instrument upright and perform distinctive melody notes. The second grandmaster of the autoharp belongs to Bryan Bowers.
Bryan was born in Yorktown, Virginia in 1940 and grew up learning traditional music and sounds from field workers and working crews around where he lived. After high school, Bryan enrolled as a Spanish major and basketball player at Randolph Macon College in Ashland, Virginia. Just short of completing his degree, Bryan left college after discovering music when he took up the guitar. "The roots of music had gone real deep in me. Music was real fulfilling, unlike anything I had ever done before."
Not too much later, Bryan encountered a gentleman playing an autoharp. "I ran into a guy that played several instruments and could get the harp in good tune. He played without any fingerpicks, just with his fingernails. He had a real sprightly style on it. It was the first time I'd heard someone play it in good tune and play it well. It opened my eyes and ears. I went out and got one the next day."
At the turn of the 20th century, the autoharp was one of the most popular instruments in the United States. It was sold mainly by traveling salesmen and adults used the autoharp for entertainment as a "parlor instrument". However, keeping an autoharp in tune became a daunting task and most of those autoharps soon found there way under a bed or in a closet. By the 1960s, when Bryan began playing, the autoharp was again considered a "novelty".
Bryan became totally devoted to learning the secrets behind the autoharp. He did this with an tremendous discipline of practicing, sometimes eight hours a day, but usually much more. It was on a beach on the East Coast, during another eight hour practice session, that the magical moment appeared. Bryan had found his style – a version of the "three-fingered roll", popularized by Earl Scruggs on the banjo. Upon his discovery, Bryan cried and cheered and kept right on playing. As a result of this session, the strings on his autoharp rusted through from the salt air of the ocean!
Bryan relocated to Seattle, Washington in 1971 and played for coins as a street singer and in bars for the right to pass the hat. One job Bryan held at this time was delivering mail by car to rural areas outside of Seattle. This job allowed Bryan to continue practicing the autoharp in-between mail deliveries. Bryan met Mike Seeger and together they played music at Bryan's house. Today, Bryan considers that "jam" was Mike as one of the highlights in his musical career.
Soon, Bryan went back east in his 1966 Chevy panel truck he affectionately called "Old Yeller." In Washington, DC the Dillards heard Bryan when he was playing in a club called the "Cellar Door." Bryan recalls, "I introduced myself and played the 'Battle Hymn of the Republic' to show them how the harp worked. Sam Bush, Curtis Burch, and Courtney Johnson of the New Grass Revival were there. I didn't realize how presumptuous I was being. The Dillards took me to a bluegrass festival in Berryville, Virginia and when they got an encore, they put me out there for their second encore saying, 'here's a guy you ought to hear.' The bluegrass community has been real supportive."
Around 1982, Bryan was featured on the NBC television program, "Real People." Bryan was shown at his home in Seattle and later performed for the live television audience. Billed as the "world's greatest autoharpist," Bryan played his 'Battle Hymn of the Republic', an American traditional song which Bryan uses to illustrate how he plays the harp.
In 2003, Bryan joined the inaugural California Autoharp Gathering and has been with us ever since. Many professional autoharpists today credit Bryan as being their inspiration. His influence over autoharpists is comparable to the Beatles with rock-n-roll musicians. In addition to his pioneering skills on the autoharp, Bryan has also been recognized with his talents on the mandocello and with storytelling. The California Autoharp Gathering is pleased and proud to host Bryan to our festival once again.