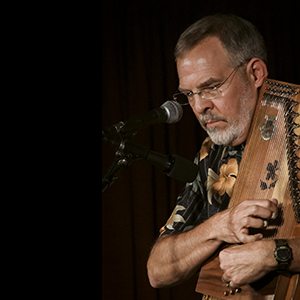 Tom Schroeder's first exposure to folk music was going to a Hootenanny at age 8. He played games with friends under the bleachers. He first saw an Autoharp, as a child, on the Beverly Hillbillies T.V. show when Granny played it.
He liked Jethro the best.
Tom bought a fifteen dollar, garage sale, Autoharp for his girlfriend in college. She quickly lost interest in the instrument but he kept his interest in her. They later married. He picked up that unused Autoharp and his interest took off. He began trying to imitate the playing styles of some of the recorded masters. He learned from a variety of contemporary Autoharp players and developed his own playing style over several years. He has used that experience to write, teach and perform with the Autoharp.me1-1024x818If you have read one of the Autoharp magazines since 1982, you have probably read an instructional article by Tom Schroeder. He has written over 100 instructional articles for the Autoharp Teachers Digest, Autoharpoholic Magazine, Autoharp Clearinghouse Magazine, and most recently the Autoharp Quarterly Magazine. Thousands of Autoharp players have gotten playing ideas from his writing and published music. He is the author of four books of music for the Autoharp. He is also the author of the autoharp section in AMERICAN FOLKLORE: An Encyclopedia (1996 Garland Publishing).
He has taught Autoharp lessons in Kansas City for 30 years and his beginning and intermediate students have gone on to win the International and National Autoharp contests. He has taught and performed at festivals throughout the United States since the 1980s. These include the California Summer Solstice Festival, Willamette Valley Autoharp Festival, Mountain Laurel Autoharp Festival, and Walnut Valley Festival.
Tom's dynamic playing style can be heard on his YouTube Channel, TSchroeder Autoharp. It can also be heard on his CD, An Artistic Autoharp, where he plays solo and with the American/Celtic group, Calliope.
Tom Schroeder is a two-time winner of The International Autoharp Contest.
As a writer, teacher, and performer, Tom has been referred to as "a master of the Autoharp."