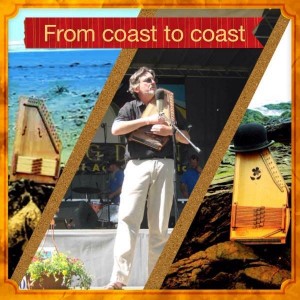 Todd Crowley's Musical Petting Zoo has been an active part of the folk and bluegrass festival circuit since 2007.  It has appeared at more than 75 festivals in a dozen or more states and five Canadian provinces.  It has been a mainstay at the Summerfolk Festival in Owen Sound ON and a popular attraction at the Mariposa Folk Festival, Clearwater Folk Festival, Ogden Music Festival, Old Songs, Podunk BG, Pickin' in the Pines, and the California Autoharp Gathering.
Besides being a touring exhibit during the festival season, Todd's Musical Petting Zoo is also a folk music community resource center and resource for teaching about the different instruments.  In the summer of 2013 it moved to its new home at 216 Maple Ave Corry PA 16407 where during the winter months "The Zoo" hosts a weekly song circle and promotes folk music activities in the greater Erie PA region.
Todd Crowley is also a performing folksinger as well as a Musical Petting Zookeeper  He has appeared on workshop stages with Bryan Bowers, Peggy Seeger, James Keelaghan, Si Kahn, Cathy Fink & Marcy Marxer and others at the many festivals where Todd's Musical Petting Zoo has appeared.
Todd's first instrument, other than his voice, was the autoharp, first introduced to him by Bryan Bowers in 1980.   It was only later that he added the rest of the musical alphabet to build his Musical Petting Zoo.  Todd has done extensive study and research into many of he various autoharp set-ups from a one key diatonic to the Prizim, which plays well over a 100 chords.
 This will be Todd's 8th appearance at the California Autoharp Gathering dating back to 2006.