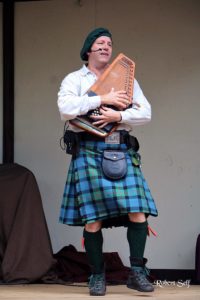 Marc Gunn plays Pub Songs with a twist. You'll hear traditional Irish and Scottish songs that he combines with songs about Star Wars, Star Trek, Firefly, Lord of the Rings, Doctor Who, and more. There's a little bit of comedy, and a lot of bit of love for these fandoms.
He's released over 20 solo albums since 2004 and has sold over 20,000 albums as an indie musician. If you share a love of science fiction conventions, Renaissance festivals, fantasy, comedy, dragons, and cats, then you will love his music.
Marc got his start with the Original Celtic Renaissance duo, the Brobdingnagian Bards. They changed the face of Renaissance festival music online by releasing free MP3s. When he went solo, he continued the tradition. But he also added a huge series of podcasts to the mix. You can hear his music all around the net. But the best place to start listening to free samples is at his website.
Once a year, Marc takes fans with him to various locations around the world with his Celtic Invasion Vacations. They usually end up in one of the Celtic countries like Ireland or Scotland, but each trip varies. The goal is for everyone to get to know a region, up close and personal. For that reason, they usually have very small groups (8-14 people).