Larry Hanks & Deborah Robins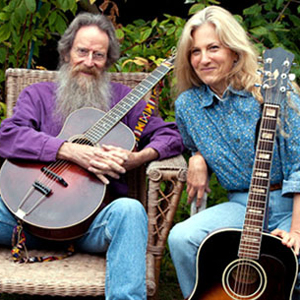 Larry Hanks is a complicated guy who sings songs of other people's complicated lives in an uncomplicated manner. His earthy and deeply resonant voice draws us into worlds of people and places where we may never otherwise go, and elegantly embroiders landscapes that never existed, save in song.
For decades, Hanks has been delighting audiences with his rough-hewn bass vocals, tastefully spare 6 and 12-string guitar accompaniments, and virtuosic Jew's Harp playing. Listeners respond warmly to his easy, unpretentious mannerisms, and a loving approach to the repertoire he painstakingly selects to reflect the many facets of the human condition. Larry Hanks brings charm, depth, and a heart full of tenderness to every song he sings.
Influenced by the music of Sam Hinton, Leadbelly, and Woody Guthrie, Hanks is also known for his many old songs of the American West– both sad and rollicking cowboy and work songs, topical and political songs, and Traditional American ballads.
Larry has performed with hundreds of musicians throughout his long career. Some of them include: Gordon Bok, Jody Stecher, Mike Seeger, Utah Phillips, Michael Cooney, Geoff Muldaur, Malvina Reynolds, Roger Perkins, Janis Joplin, Fred Holstein, Mike Marker, Deborah Robins, and Kenny Hall, to name a few.
After a lengthy hiatus, Hanks has come back to his first love of performing and recording, with the recent successful tours of the US, UK, and Europe, with wife and musical partner, Deborah Robins; and increasingly active live-performance schedule.
Larry Hanks & Deborah Robins' eagerly-awaited THIRD duet album, "THE WHEEL OF TIME" produced by Steven Strauss, is NOW AVAILABLE as accolades from their first and second CDs, "No Hiding Place", (featuring 19 brand spankin' OLD songs) and "Old Days" continue to pour in. "The Wheel of Time" is available (along with Hanks' other recordings) through the artists or via CDbaby, iTunes, Amazon.com, Down Home Music, Amoeba Records, and other fine retailers near you.