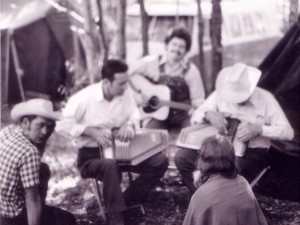 Nadine White was gracious enough to share this amazing photograph she recently found in her belongings.
Mike Mueller provided caption information of value when he responded to Nadine with his appreciation.
Mike wrote:
As for the photo…what a remarkable and wonderful illustration!  First, it is definitely Mike Hudak to Kilby's right hand side.  Mike was Kilby's playing partner and close friend from about 1960 to around 1975 when Kilby moved from Pennsylvania (and a thirty minute drive to the Hudak's home in Wilmington, Delaware) back home to Virginia.  Kilby didn't tour much or get around events after 1975.  He suffered from a terrible smoker's cough and had other health issues that dogged him until his death in 1980.
The sixth CD in the Kilby Snow Anthology is a live concert that Kilby and Mike performed at Cornell University (Ithaca, NY) in December 1970, so this photo is about a year and a half from that date.  It fits within the chronology of Kilby and Mike's long relationship (some parallels with the relationship I had with Kenny Hall…we started playing together in 2003 up to the week before he died on September 18, 2013.  I played at Kenny's right hand side on the last set of music he ever did.  And I'm still glad I did).
That is 100% Jim Snow in the left hand corner.  I'm pleased to see that Jim was in attendance at this event as Jim was in and out of Kilby's musical life from around 1970 onwards.  You can tell the significant difference in aging from the David Gahr photo that you mentioned (1966) to this period, just six years later in 1972.  Jim fought his own demons…severe issues with alcohol and a terrible frustration with his own shyness that disallowed him from becoming more commercial.  Jim was the "real deal"…he could play and he could really sing!  He had the old timey sound in his voice that simply can't be faked.  But he desperately needed someone to mentor, coach, and manage him and there was no one who stepped up.  Jim spent a lifetime going from odd job to odd job, from dollar to dollar.  After Kilby died in 1980, Jim became even more reclusive, placing all of his father's musical items and memorabilia in a closet.  It was only in 1994 when Joe Riggs pushed Jim out of his doldrums and got him to go to the MLAG.  Jim entered the contest….and won.  The Orthey harp that Jim won from that contest was the same one he brought to CAG in 2006 and played it for us.
I started communicating to Jim in late 2004.  He was reluctant to  speak with me at first, since he was distrustful of people who wanted to carpetbag off of Kilby's music.  But after about a year of regular correspondence, Jim became more open with me.  Coming to CAG in 2006 was his final climatic musical highlight.  It was his first airplane ride anywhere, if you could believe that.  Joe Riggs was once again, very critical in making this happen.  Jim was still somewhat shy at CAG but I knew he was having the time of his life.  We released a new CD of his, "Jim Snow: Father and Son" and sold 60 copies at CAG.  On the Sunday, I handed him a large manila envelope containing $900 cash.  "Here you go," I said to him.  "It's yours".  Jim looked inside, saw all the cash and said, "well you should have a cut".  "No," I said. "It's all yours".  I might as well handed him a brick of gold.  That was a great moment to me.  The stranger from California came through.
His health started declining rapidly after CAG '06 and he died in April 2008.  We stayed in touch after CAG '06.  He couldn't stop talking about his experience with us.  It taught me a great lesson about CAG means to people.  I miss Jim to this day and think of him often.
Our featured workshop at CAG '06 featured Jim, Joe Riggs, Mike Seeger and Evo Bluestein.  In just a few short years, only Evo remains.
He trusted the last remaining autoharp that belonged to Kilby to me.  That autoharp is now on display at the Musical Instrument Museum in Phoenix.  The curator there , a Kilby fan if you could believe that, is thrilled to have it.  I still maintain ownership of Kilby's AH just in case the museum goes belly-up like the one here in Fresno did.  You never know.
I can't wait to share the photo with Ray Frank.  Photos of Ray pre-CAG are very rare, since Ray's collection of photos of himself was lost.  Ray, who has attended every CAG regardless of his health, has been one of the reasons CAG has done so well.  And you're right about the philosophy of what CAG is…it's about music and that we play on the AH, not just the autoharp itself.  It's a different focus since all of us are musicians who create our sounds and thoughts with the AH.
You know, I learned a lesson once from someone…a musician was holding a guitar and was working with a group of kids. He said to the kids, "where does the music come from?"  All the kids pointed to the instrument.  So the musician said, "OK"  He looked at his instrument and said to it, "PLAY!"  and of course the instrument didn't move.  So the musician said to the kids again, "OK.  Now just where does the music come from?" And the kids pointed at the musician.  Lesson learned.  The music comes from the person, not the instrument.  It's that simple lesson that becomes the core of CAG's philosophy.
Nadine wrote:
Hi, Mike & Marc.
It's taken me a long while to get round to sending in some feedback about this year's CAG, but one good thing about this is that it means that serendipity has come into play and I discovered where a photo I've been looking for for YEARS had crawled to (it had fallen and literally slipped down behind something else).
The photo quality isn't great, but at least you can add it to your Kilby Snow files. It's only a small B/W snapshot from a friend's cheap camera, badly focused and framed off-centre on the subject (I cropped out a large, black tent to the right of the original when I scanned the photo). Focus (unfortunately) is not on Kilby but on the back of my head (yes, that's me, sitting at the feet of the master, in my very brief long-haired phase). I sharpened the image slightly and improved the contrast in this version that I've attached, but most of the people in the shot are somewhat out-of-focus.
It's good to have a shot of Kilby playing a duet with another autoharper (and yes, on this occasion, I did see them do the trick where they sat knee-to-knee and reached over to the other person's 'harp).
Basic Information About the Photo:
Place Taken: Fox Hollow Campground (on the property of Bob and Evelyne Beers where the Fox Hollow Festival was held for many years in the 1960s through the early '80s).
Event: Memorial Day Weekend of the Pick'n', Sing'n' Gather'n' in Upstate NY (called the 'GottaGetGon' or GGG for short this event was a mini-festival, with booked performers… heralding the start of the festival season). The PSG as a folk music club had a good relationship with the Beers and the Fox Hollow Festival, performing there as a group every year but also helping out with work weekends to keep the rustic facilities in shape.
Date: 1972 Dating for the photo was pretty much based on my hairstyle (smile) plus my recollection that I was a new autoharper at the time (I think that I started playing autoharp sometime early in 1972, or possibly the autumn before). I'd only been playing for a little while when I saw Kilby. I sent the photo to Bill Spence, and his wife Andy looked up the records to confirm which year it was.
Persons in the Photo:
I'm pretty sure that the person who was playing with Kilby was not his son Jim, but Mike Hudak. I'm pretty sure I would have remembered if they had been introduced as a father/son act. Instead, I recall it as having been 'someone else' who was accompanying/escorting him on that occasion. (As a footnote, I've come to know Mike's widow, Marty, since starting to attend MLAG in 1999).
I'm the gal seated in front ('Nadine Stah' as I was at the time).
The guy in the cowboy hat is completely unknown to me. The GGG did attract a wider group of individuals than just those who were members of the PSG. However, a couple of clues make me wonder if it might have been Jim Snow. For one thing, cowboy hats weren't all that common at folk music events in upstate NY in the early '70s. For another, he does look an awful lot like the 1966 photo I found on the internet taken at Newport Festival which shows both Mike Hudak and Jim Snow (http://www.gettyimages.co.uk/detail/news-photo/country-musicians-jim-snow-kilby-snow-and-mike-hudak-pose-news-photo/150833178).
The out-of-focus guy in back who is accompanying the two autoharpers on guitar is none other than Ray Frank!
I was surprised to find when Andy Spence confirmed that this was in 1972, because that was a particularly traumatic year for everyone who came out to the Beers' farm and I hadn't connected it with my memory of seeing Kilby.
The much-loved owner of the property, Bob Beers, had died in a car accident on the Friday afternoon when everyone was already on their way to the farm for the event. His widow, Evelyne, asked for the weekend to go on as planned, it would have been impossible to contact everyone and she said (quite rightly) that it would have been Bob's wish. So there was much music played and many tears shed that weekend, ending in an open-air memorial service on the Monday. The GGG (and the Fox Hollow Festival which Bob had organised) continued to run into the early 1980s on that site, until after Bob's widow had remarried and her life went in different directions. Andy Spence looked up the records and confirmed that thepPerformers that weekend were: Bottle Hill Bluegrass Band, Michael Cooney, John Jackson, Lou Killen, Jean Ritchie, Kilby Snow, and Jim Morrison – a great lineup. I remember some of the music from that year, but, as you'll appreciate, it was a very emotionally-charged event.
[Marc Blake comments: … then Nadine goes on to tell Mike (and Marc) what a great event CAG is, etc. "High Five Mike Mueller!"]
I can't seen Ian and me making it to CAG 2015 (regretting this already) but I'm already thinking ahead to 2016.
Hugs to you all, 
Nadine White
Whithorn, Scotland
Oh, yes… we're both looking forward to the DVD of CAG 2014 when it arrives!