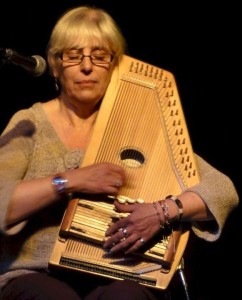 One of the autoharp world's outstanding stylists: Heather Farrell-Roberts from Kent in England. Precision, clarity, lightness of touch and a beautifully fluid technique are hallmarks of her unique playing style. With her discerning ear for harmony and the wide range of dynamics that she achieves from her light touch on the strings, Heather's playing style is completely her own. Her arrangements are stunning.
Part of the secret of Heather's playing is that she has been gifted by Nature with incredibly strong fingernails, which she grows to lengths of a quarter inch or more. A close-up view of Heather's right hand will show those long fingernails flicking very lightly across the strings. Although she occasionally wears a thumb-pick for extra volume when playing in a jam or music session, she never uses any picks in performance. Heather says, 'Picks feel like a barrier between me and the instrument.'
Another surprise for many who have heard her complex arrangements is that Heather learns her tunes completely by ear. This means that a new tune must first catch and hold her attention. As she puts it, 'The tune has got to "speak" to me; that is, it stays with me after I have heard it. You know, the feeling – Gotta play that tune! It then means listening to a recording of the tune over and over again until I have internalised it. After that it's a matter of working out chords.
Heather has a deep emotional attachment to her music, and this shines through in her playing. But only after she has been through this process of thoroughly internalising a melody can she begin to build an arrangement, developing variations and embellishments to convey the emotions that the tune evokes for her.
So how did she start playing? Like several others in the UK autoharp community, Heather's first encounter with an autoharp was through Mike Fenton when he came to do workshops with the children at the school where she was teaching. After the children had gone, she found him sitting alone, playing one of his diatonic 'harps. She stood transfixed in the doorway. 'Mike told me later that I looked just like a five-year-old, all big eyes and with a look of wonder on my face.' Mike handed her a single key 'harp in the key of F. Heather had some basic guitar skills, so he explained which chord was which and left her to get started. Her reaction to that powerful diatonic sound was 'Wow!' She describes herself as hooked from the start: 'Love at first strum!'
The first instrument she owned was chromatic, but Heather soon returned to diatonic autoharps. 'I had never forgotten the sound that I first heard from that single key 'harp. Also, I found that the chromatic harp just did not "do it" for me, or for the tunes I wanted to play: flowing music, keeping the bass support going and not losing it every time I pressed a new chord bar.' Today, Heather performs exclusively on diatonic 'harps, but she still uses a chromatic instrument when teaching beginners.
And being taught by Heather is something a great many people in the UK have reason to appreciate. Drawing on her skills as a trained teacher, she has been leading regular workshops at Autoharp Days that the UK Autoharps Association (UKA) has been organising since 2000. Her workshops have covered a range of topics, but she has come to specialise in teaching new players. Heather's gentle guidance for beginning autoharpers has helped hundreds of individuals.
'I feel that it's ideal for beginners to be taught by an advanced player. Students need to have the best possible start, otherwise they may not continue playing. I think of it as being a bit like teaching my Special Needs kids in my former day job: if you give them the best start, there is a much better chance of them reaching their potential.'
'I really enjoy working with beginners. It is so much fun to watch the process, seeing them first pick up an autoharp, struggling to know how the hold the thing, and then after a very short time they are strumming chords and keeping steady rhythms and SMILING. I love it when the smiles start.'
Heather has given freely of her time and energies to the UK autoharp community, also serving a 6-year stint as President of UKA. Since then, she has taken her support for beginners to the next level: training experienced autoharpers to become the next generation of teachers.
Since 2004, Heather has also played a key role outside of UKA, as the UK autoharpers' liaison with the administrators for two major annual music workshop events: the Sore Fingers week and the Sore Fingers weekend. See www.sorefingers.org.uk for further information about these events, which provide world-class tutors for a range of instruments in the Bluegrass and Old-Time genres. Heather selects the autoharp tutors for both events, and her thoughtful choices have given UK autoharpers a chance to learn from tutors from the USA and other countries.
Heather gives the incoming Sore Fingers tutors as much support and advance information as possible: practical advice about traveling to the UK, and e-mail lists to put tutors in touch with the people who have enrolled for their class. She also arranges for a luthier to be the 'Autoharp Mr Fixit' at Sore Fingers Week, doing minor repairs on autoharps (restringing, re-felting, and chromatic-to-diatonic conversions). Many of today's outstanding autoharp luthiers have enjoyed a busy week working at Sore Fingers – and also the sales opportunities, helping to build up the numbers of luthier 'harps in the UK.
Support for beginning players at Sore Fingers is naturally a job that Heather has made her own. Some arrive as complete beginners and will spend the entire week with her, while others may have previous experience but need support in getting up-to-speed before joining the main autoharp class.  Although tutoring the beginning autoharpers means that Heather usually can't enjoy much learning time for herself in the main autoharp class, she finds the role hugely rewarding. 'I LOVE doing this job. It is so good to have a 5-day stretch working with a group and seeing the amazing progress they make.'
And everywhere she goes, Heather's music engages her listeners. She acknowledges with a wry grin that part of the reason she recorded her second CD A Knot of Ribbons was 'to stop everyone nagging me to do this – not just autoharpers, but my family as well'. Other reasons were 'to show where I am now in my playing, including the fact that I can play with other people and am not just a solo player. Also I wanted people to hear the range of music that can be played on an autoharp: Celtic, classical, fast, slow, sacred, jazzy'. Most importantly of all: 'These are all tunes that I love to play and I think they show my style of playing.'
Which brings us back to where we started this profile. Having been pressured to make a second CD, at the moment Heather's playing is focused around the repertoire she built up for the recording. But all of this activity in the public sphere – Heather's teaching, her organising, and her recording – has been propelled by her own private and passionate connection to music. For Heather, The Music comes first!