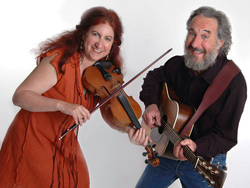 Eric & Suzy have devoted their lives to the pursuit of weird and obscure old-time American music – warped fiddle tunes in odd tunings, cinematic ballads, country blues songs that contain mysterious metaphors, early Cajun music with incomprehensible French lyrics and backwards chords. Using fiddle, mandolin, guitars, Cajun accordion, banjo (and the occasional odd instrument such as the ten-stringed cuatro) they bring these early 20th century sounds right into the present day.
Eric's flatpicking on guitar and mandolin is exceptional for its purity of tone, speed, and soulfulness; Suzy is a powerful singer, an award-winning fiddler and Cajun accordion player who has apprenticed with older generation Louisiana Cajun musicians under an NEA Fellowship. Founding members of many influential roots music groups including the Black Mountain Boys, Any Old Time, the Klezmorim, and the California Cajun Orchestra, Eric and Suzy have also worked with Maria Muldaur, David Grisman, Peter Rowan, Jim Kweskin, Geoff Muldaur, Jerry Garcia, Darol Anger, Laurie Lewis, the Savoy Doucet Cajun Trio, and many other fine musicians.
Eric and Suzy are available for concerts, festivals, music camps, parties, weddings, and nearly any other occasion upon which acoustic music might be desired, and they're also active as teachers, both in workshop settings and private lessons.