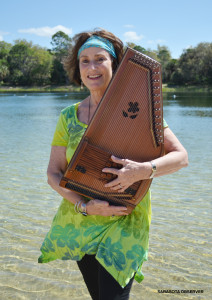 An award winning artist, for her singing, songwriting and instrumental work, Eileen Kozloff is a multi-instrumentalist who has been actively involved in the autoharp world for over a quarter of a century! She is best known for her unique "pick-less" style of diatonic autoharp and for her soaring vocals, stunning harmonies and commanding performances. Her ability to compose, play and sing in a wide range of genres has made her a versatile festival performer and workshop teacher.
In addition to performing at festivals, concerts and dance venues, Eileen has appeared live on numerous radio and television broadcasts, and for several years she was a "Rostered Artist" with the Pennsylvania Council of the Arts Artist-in-Residence program. In the winter of 2012, Eileen performed and taught workshops at two Australian Folk Festivals: Cygnet (in Tasmania) and Illawara (in Wollongong). A return tour of Australia is now planned for 2017.
Her extensive repertoire is a rich mix of Old Time chestnuts, Carter Family songs and her original compositions, which stylistically run the gamut from country, blues & folk to jazz and even rock & roll! The Old Time Herald calls her approach "emotive, clear and controlled, reminiscent of the best of the revivalists, such as Joan Baez or Anne Hills" and her performances "heartfelt, with ravishing, wide ranging vocals."
Eileen's recordings have garnered stellar reviews and her discography includes two critically acclaimed CDs with her former band, Well Tempered String Band as well as two solo efforts: "Solitary Rider" and "Hearts and Souls Entwined". She is currently at work on her 3rd solo CD which is scheduled for release in early 2016.
Eileen has played in a variety of band configurations, as well as performing solo, but a chance meeting at the 2013 Sarasota Folk Festival with internationally acclaimed singer songwriter Hank Woji led to her current musical endeavor. Woji is a Jersey Shore Ex-Pat turned West Texas Desert Rat with roots in folk, country and blues. The dynamic duo of Woji & Kozloff sound like Woody Guthrie, Joan Baez and the Carter Family meet Joni Mitchell, Bruce Springsteen and Neil Young at a Grateful Dead show in West Texas! They currently tour Texas, the Gulf Coast and Florida with occasional jaunts up the East Coast.
A Central Pennsylvania native, Eileen said goodbye to the cold rain and snow in 2012 and is now a Gulf Coast Homesteader based in sunny Sarasota, Florida.